The famous women in Emilia Romagna
Bologna, city open to knowledge and science, city of the oldest university, attracted many great minds who in turn created brilliant academies and " salons" attended by an art-loving cultural elite. The presence of the papacy and the Church also helped the spreading of  the arts with numerous commissions to decorate churches.
Men and women have evolved in this scientific, religious and passionate fever to excess ... in this article we will only meet the ladies!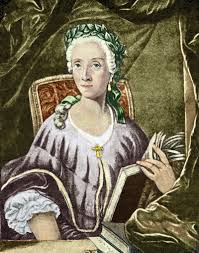 WORLD'S FIRST UNIVERSITY PROFESSOR: Laura Bassi
Born in Bologna, October 29th 1711. She was a brilliant student and precocious genius, so that her parents encouraged her to study with the help of private lessons. She obtained her doctorate in 1732 and in 1734 gave her first university lesson in the famous Anatomical Theatre in Bologna.
Laura Bassi is thus the second woman in the world to officially obtain her doctorate but also the first woman university professor in history.
She married to a doctor who promised not to prevent her from researching but she nevertheless gave birth to eight children and was admitted at the Clementine Academy of Sciences where she taught  physic and in particular studied  the Leyden bottle.
She fluently spoke French that she often used to illustrate her experiences and researches, but also Greek, Latin and other languages ... She passed away at 67 years old.
A crater on Venus and an asteroid are dedicated to her and recently the Italian oceanographic research icebreaker bears and boasts her name to the polar caps: LAURA BASSI.