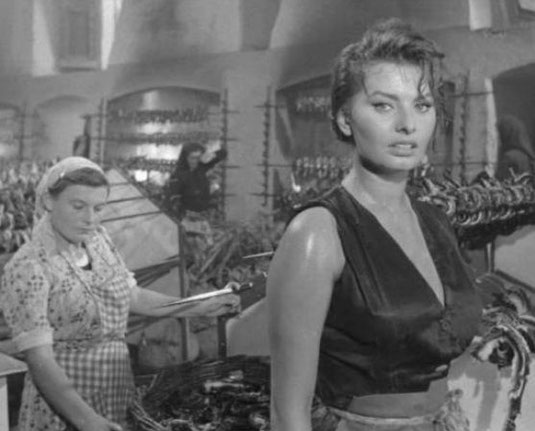 Ferrara and the cinema:
In less than a century, many directors including Antonioni, Pasolini, Pupi Avati have chosen the streets and gardens of Ferrara for their shootings… Among the 80 films made in town or in the provinces, I have chosen for you "The woman of the river ", a masterpiece directed in 1955 by Mario Soldati with the contribution of  Giorgio Bassani, Pier Paolo Pasolini, Fiorestano Vancini…
The story takes place in Comacchio, a town surrounded by vast brackish lagoon, known for its aquatic fauna and eels which have been marinaded  there for centuries.
Nives, a "bella ragazza" (dazzling Sofia Loren at 19) is a worker at the eel cannery, in love with a smuggler (Rik Battaglia) who abandons her after seducing her.
Desire for revenge, denouncements and pain when their child drowns in the PO, are all feelings masterfully interpreted by Sofia Loren who will experience her first international success. To watch again absolutely!
To find out more about cinema in Ferrara or in Emilia Romagna, Contact me. Written by Nathalie Zaveroni.